Piedmont Alliance for Quality Growth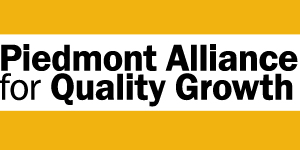 Piedmont Alliance for Quality Growth cordially invites you to join us for a transportation symposium.
Monday, November 15, 2010 at 12:00pm - Tuesday, November 16, 2010 at 12:30pm
Technology Square Research Building
285 Fifth Street, Atlanta, GA 30308 | (404) 385-4073
Meals provided.
Cost per attendee is $195 payable by check or credit card. To pay by check, please return to http://www.cqgrd.gatech.edu/paqg and use the printable check form.
Don't forget, Patron Level members receive one free registration and Sponsor Level members receive two free registrations. If your organization is a PAQG member, look for an email with your promotion code for free registration!