Ivan Allen College Shadow Day Event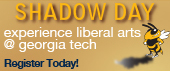 Welcome to Shadow Day Registration!

This page is only for prospective Liberal Arts students or students that have accepted their wait list offer. If you are already an admitted student to Georgia Tech no payment is required for the event.

To get started, please click on the Registration link below.